How To Open An Account With FXCM Australia To Avoid ESMA
*This Tutorial is for educational purposes only to legally avoid changes made in ESMA. Unlitrader does not benefit monetarily from any accounts opened under FXCM Australia*
Hi All!
To help you properly avoid the changes of ESMA. One alternative is to open an FXCM Markets Account, however, as mentioned, FXCM Markets has no negative balance protection policies in place. You can choose to stay with FXCM UK but you will either have to increase your balance or reduce the lots you trade.
Now there is another alternative, and that is to open an FXCM Australia account. ESMA will not affect accounts opened in Australia and leverage settings by default is 1:400, the minimum amount to open is USD$50 (I suggest to still open with at least USD$500) and they continue to have a negative balance protection policy of up to USD$50,000 that is reset every 24 hours. In other words, this is what your account was, and in some respects, even better than when it was before ESMA.
If you are interested in opening an FXCM Australia account, here are the step by step instructions to do that.
Go directly to https://www.fxcm.com/au/
Click on "Open Account" on the upper right hand side of the page
On the Apply now form, if you place "Philippines" as your country, you will be re-directed to FXCM Markets, so the work around as advised by John Adlawan, our FXCM representative handling Forex Club Asia said do this:
Place "Australia" as your country, then click "Begin Application" 
Answer the questions in the application form. But, when you get to Citizenship, place of birth, country of residence, and even mailing address, please type in Philippines and your Philippine address.
Submit a Government issued ID. If submitting one with an address, make sure, the address you type into your application form is exactly the same (even if you don't live there) otherwise there will be delays in processing your account. If submitting a passport which has no address, you have to submit a proof of billing document (Utility bill, bank statement etc.) you can upload these documents directly through the application process (very easy as long as you already have the documents saved as a picture)
Last step, start funding your account with the methods specified and you're done! 
With the right documents and done properly, it will take less than 10 minutes. However, if the account can't still be traded they are most probably verifying the documents submitted.
How to Fund your FXCM Australia Account By Transferring Funds from FXCM (UK or Markets ) to FXCM Australia
For those who have already applied and have an FXCM Australia account and would like to transfer funds from your UK or Markets Account, just do the following:
Step 1: Login to your existing myfxcm.com account. In my case, my FXCM UK account.
Step 2: Type in the Transfer amount. In my case I'm transferring the whole balance from FXCM UK to FXCM Australia. Then, in the "To My Account ID" Field, select "Account not listed" Please look at the snap shot below: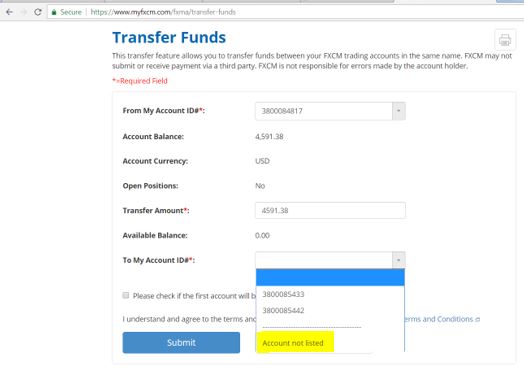 Step 3: Type in the FXCM Australia account in the field provided "Account ID#". In my case, the new FXCM Australia Account will be 3100088121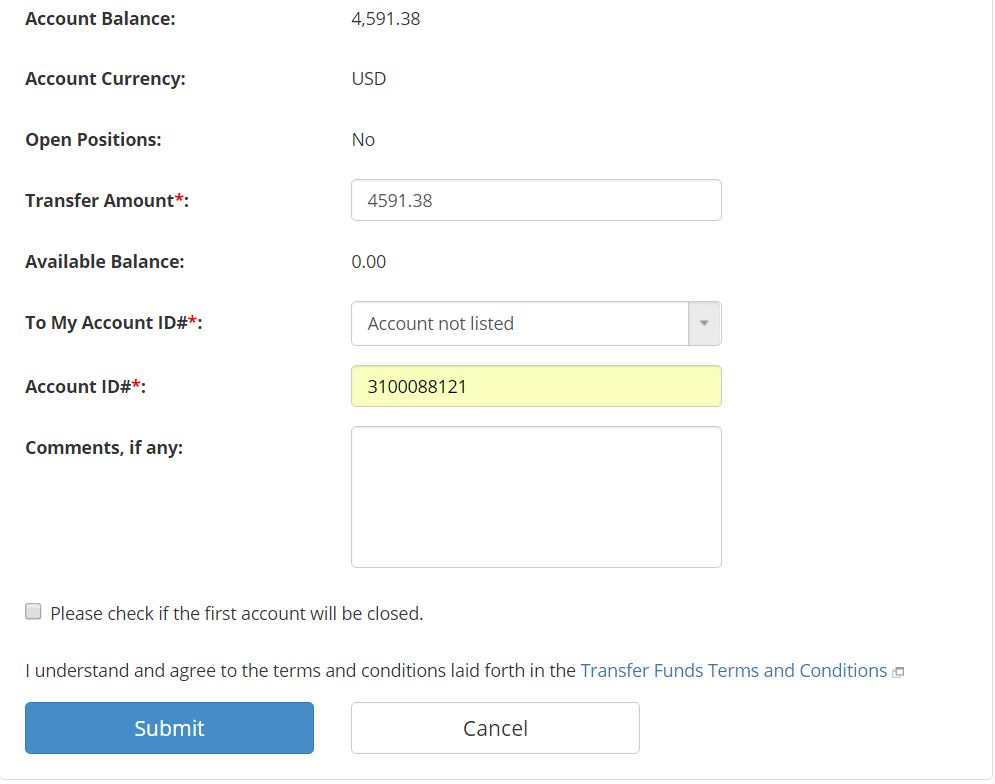 If you are going the close the account activate the "Please check if the first account will be closed". Do not activate it if you want to keep it active. In this example I chose not to close the account as I may add funds to the old UK account in the future. Click Submit.
Step 4: You will now have to wait 1 to 2 business days for the funds to be transferred FREE of charge. No Fees will be charged for FXCM to FXCM transfers.

Hope this helps!
Monsterpips to All!
-Mark